Internet Explorer 5.0 or higher is required to use Mystic Island. If you receive 'Automation Errors' upon startup, it simply means your browser needs to be upgraded to visit our gaming island.
Please Note: Our new live technical support section has been implemented to allow you an easy way to contact our staff with questions or issues that you have. If you are having installation problems, please click the Support button in the left panel.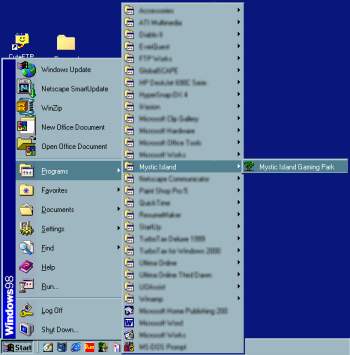 Important: After installing this software, you run it from the Windows Start Menu. Many other game sites run through your web browser, however ours does not. You activate Mystic Island just like you would activate a program you purchased in a store. Mystic Island will show up on your Programs list after you have successfully installed it.
File Information
Company:
Mystic Island
Version:
3.86
Date created:
January 2, 2009
File size:
8.14B
Approx. download time:
23 min. at 56 kbps;
License:
Free
Minimum requirements:
Windows ME/NT/2000/2003/XP/VISTA
Uninstaller included?:
Yes
By clicking the link below to begin installing, you acknowledge that you understand that Mystic Island is unaffiliated with "Mystic Lake" hotel and casino and that you are here because you are looking for free social card games. If you are here by accident and are looking for Mystic Lake, click here to go immediately to their website.
Click HERE to Download Now
This site best viewed at 800x600 or higher using IE5+.
© 2001 Mystic Island™, MysticIsland.Net™. All rights reserved.
Contact Us
|
Terms of Use