Important
With the release of the new version on November 21, 2001, we have noticed a number of help tickets coming in that have solutions that could have been resolved with a little effort. Please try to first make an attempt at resolving any installation issues before requesting assistance, as our sysops are spread thin and need to focus on the more serious problems. With that said, if you are having problems installing, try this.
First off, uninstall everything related to Mystic Island. Use the Add/Remove Programs in the Control Panel to get rid of it all. If you've tried that, go one step further by locating the folder on your machine where Mystic Island was installed and making sure it was deleted. By default, Mystic Island will have been installed in c:\Program Files\Mystic Island unless you changed it manually. There are times where files will be left over after uninstalling, which can cause problems, so we need to make sure the Mystic Island folder is gone.
Next, use a reliable web browser, so make sure you use Internet Explorer to download the update. After clicking the link at the end of this instruction (don't click now, read first!), you will see a window that looks like this: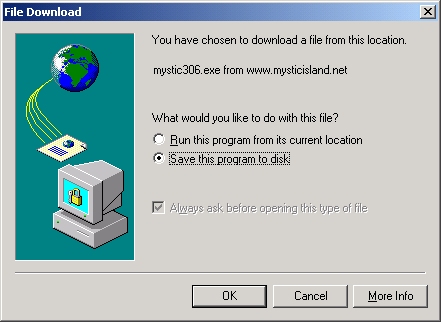 Make sure you choose Save this Program to Disk. It will then ask you where you want to save the file, so remember where you put it. The download will take a few minutes, it is a big file. Once it is done, open/run it. Follow the directions and once the program is finished installing Mystic Island, you should have a "Mystic Island Gaming Park" shortcut on your desktop. Run it, and you're in Mystic.
Now, following the directions above, click here to begin downloading the new version of Mystic Island.
---
Every player at Mystic Island is very important to us. Those of you who try our software and have problems may need to ask for help. We provide this as a method for you to leave a message here which will be immediately relayed to our online staff and someone will contact and assist you as soon as possible.

Here are some other useful addresses if you're having problems: